Our Process
---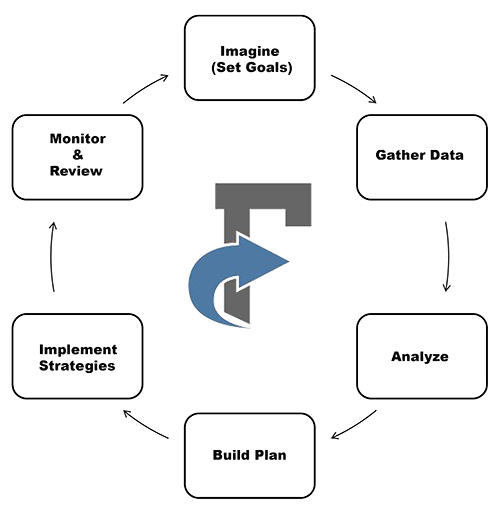 Step 1: Imagine/Discover (Set Goals)
Before creating a financial plan, you need to understand your goals.
Setting short-term, mid-term and long-term financial goals is an important step toward becoming financially secure.
Your goals are the foundation of your financial plan because you need to know what you want to accomplish before you can begin saving or investing.
Step 2: Gather Data
The data-gathering process is designed to obtain all the essential background information about the client that will be needed to prepare a complete financial plan.
Although you may already know this information, it is wise to have it all written down so that you can visualize all the necessary data required to make investment decisions.
Step 3: Build Plan
Once you've identified and prioritized your financial goals, you can develop a clear-cut savings or investment strategy that allows you to turn your dreams into reality.
We present the financial planning recommendation and the supporting rationale in a way that allows the client to make an informed decision.
The financial advisor reviews the client's situation and prepares a comprehensive, written financial plan that is designed to help them achieve their goals.
Step 4: Implement Strategies
Now you simply put your plan to work! But as simple as this sounds, many people find that implementation is the most difficult step in financial planning.
We implement strategies based on the client's priorities first. It is important to remember that implementation is an ongoing process that could be accomplished over the years.
Step 5: Monitor & Review
Plans evolve and change just like life. The process of financial planning takes place on an ongoing basis where the client's situation is continually reviewed.
The meetings will help identify any changes in your circumstances or objectives that would require changes to your financial plan.
Depending on the needs of the client, the reviews could be quarterly, semi-annual or annual.
---